An Introduction to rhBMP-2


Press Releases on rhBMP-2

Biologics International Corp (BIC) is a specialist in rhBMP-2 production.
We have delivered more than 200 batches of rhBMP-2 to our world-wide customers.
Also, we guarantee the best price and high quality.
Cat. No.:
CY115
Full Name:
Bone Morphogenetic Protein-2 Human Recombinant
Synonyms:
BMP-2; BMP2; Bone Morphogenetic Protein 2; BMP2A
Source:
E. coli
Amino Acid Sequence:
The sequence of the N-terminal amino acids was determined as Met-Gln-Ala-Lys-His.
Molecular Weight:
Bone Morphogenetic Protein-2 Human Recombinant was expressed in E. coli as a homodimeric, non-glycosylated polypeptide chain containing 115 amino acids. BMP2 exhibits a Molecular Weight of approximately 26 kDa as revealed by SDS-PAGE (under non-reducing conditions).
Purity:
>98% as determined by SDS-PAGE and HPLC
Endotoxin:
Endotoxin level was found to be <0.1 ng/µg(1EU/µg) by a LAL gel clot method.
Formulation:
Lyophilized from a 50mM acetic acid solution, filtered by 0.2 µm membrane.
Reconstitution:
To reconstitute the protein, add sterile 100mM AcOH (acetic Acid) to the lyophilized protein and make a preparation with a concentration ≥0.1mg/ml. The preparation can be diluted into other appropriate buffers if necessary. Cautions should be taken to avoid bacterial growth, resulting in potential contamination with endotoxin.
Stability:
The lyophilized protein is stable at room temperature (≈3 weeks) and at -20°C (≥ 2 years from the date of receipt).Upon reconstitution, it can be stored at 4°C (≤ 7 days) or at -20°C (≤ 6 months). For long term storage, please store at -80°C and the addition of a carrier protein (0.1% HSA or BSA) is recommended.Avoid frequent freeze-thaw cycles.
Biological Activity:
Determined by its ability to induce alkaline phosphatase production in ATDC-5 cells. The ED50 is <50ng/ml.
Usage:
FOR LABORATORY RESEARCH USE ONLY. Not intended for diagnostic or therapeutic purposes.
How to Order
1. Place Order Online
2.Contact Us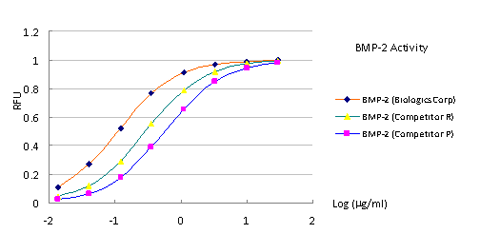 rhBMP-2 Activity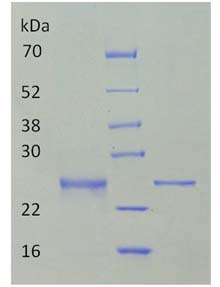 rhBMP-2 SDS-PAGE

rhBMP-2 Mass Spec
---
©2013 BiologicsCorp, All right reserved.
Need more information? Please do not hesitate to get in touch.
Contact Us
Contact Us
Send Email
+1 (317) 703-0614
+1 (855) 427-1516