Recombinant Cytokines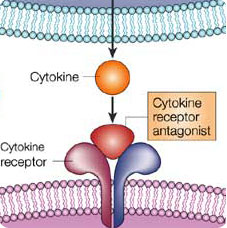 Cytokines are a group of proteins involved in the innate and adaptive immune systems. They were at the start known as products of immune cells that act as mediators and regulators of immune processes, but many cytokines are now known to be produced by cells other than immune cells and they can have effects on non-immune cells as well. Cytokines carry signals from one cell to another, alter cell behavior in various ways and regulate the body's immune response to a potential threat -which could be a pathogen, such as a virus, bacterium or parasite, or a toxin. However, they're well-known for the roles they play within the immune system's defense against disease-causing organisms.
Cytokines are diverse and meaning. The body produces different types of cytokines: colony stimulating factors(stimulate production of blood cells), growth and differentiation factors(function primarily in development), immunoregulatory and pro-inflammatory cytokines(interferon, interleukins, and TNF-alpha that function in the immune system).
BiologicsCorp(BIC) mainly manufactures interleukin, it plays a role in stimulating the growth and development of a variety of immune cells and stimulating the production of chemokines. Interferon is also a product of our company, its major use is to potentiate the antiviral and antitumor effects of the type I interferons. In addition, we also manufacture some other recombinant proteins which are associated with organ, bone(BMP-2, BMP-4), cancer(immune), nervous system and some others. Our products are only for laboratory research use, not intended for diagnostic or therapeutic purposes.