BMP-2(Bone Morphogenetic Protein 2), Human Recombinant, E.coli
BMP2 belongs to the transforming growth factor-beta (TGFβ) superfamily. BMP-2, one of the main growth factors implicated in growth and regeneration of bone and cartilage, exhibits pronounced osteoinduction properties. Under normal growth conditions, BMP-2 is localized in bone tissue as a complex with high molecular glycosaminoglycans, and is released in response to bone damage, resulting in the stimulation of differentiation of mesenchymal cells into osteoblasts and induction of cell proliferation.
Why you should choose us
We have delivered more than 200 batches of rhBMP-2 to our world-wide customers and most of the customers are returned ones. Also, we guarantee the best price and high quality.
QA data of rhBMP-2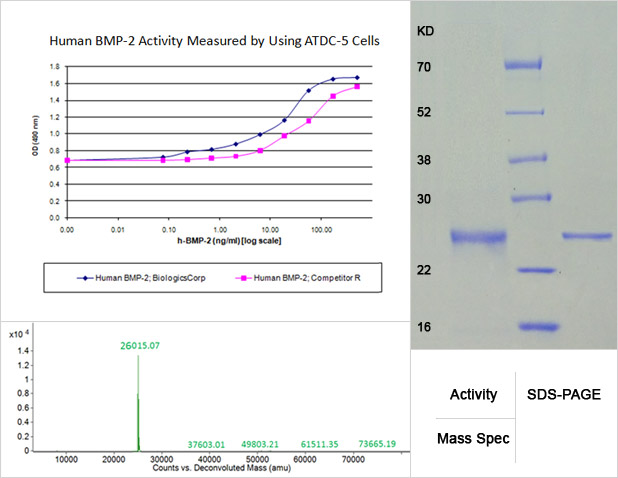 | | |
| --- | --- |
| Full Name | Bone Morphogenetic Protein-2 Human Recombinant |
| Synonyms | BMP-2; BMP2; Bone Morphogenetic Protein 2; BMP2A |
| Source | E. coli |
| Amino Acid Sequence | The sequence of the N-terminal amino acids was determined as Met-Gln-Ala-Lys-His. |
| Molecular Weight | Bone Morphogenetic Protein-2 Human Recombinant was expressed in E. coli as a homodimeric, non-glycosylated polypeptide chain containing 115 amino acids.  BMP2 exhibits a Molecular Weight of approximately 26 kDa  as revealed by SDS-PAGE (under non-reducing conditions). |
| Purity | >98% as determined by SDS-PAGE and HPLC |
| Endotoxin | Endotoxin level was found to be <0.1 ng/µg(1EU/µg) by a LAL gel clot method. |
| Formulation | Lyophilized from a 50mM acetic acid solution, filtered by 0.2 µm membrane. |
| Reconstitution | To reconstitute the protein, add sterile 100mM AcOH (acetic Acid) to the lyophilized protein and make a preparation with a concentration ≥0.1mg/ml.  The preparation can be diluted into other appropriate buffers if necessary. Cautions should be taken to avoid bacterial growth, resulting in potential contamination with endotoxin. |
| Stability | The lyophilized protein is stable at room temperature (≈3 weeks) and at -20°C (≥ 2 years from the date of receipt).Upon reconstitution, it can be stored at 4°C (≤ 7 days) or at -20°C (≤ 6 months). For long term storage, please store at -80°C and the addition of a carrier protein (0.1% HSA or BSA) is recommended.Avoid frequent freeze-thaw cycles. |
| Biological Activity | Determined by its ability to induce alkaline phosphatase production in ATDC-5 cells. The ED50 is <50ng/ml. |
| Usage | FOR LABORATORY RESEARCH USE ONLY.  Not intended for diagnostic or therapeutic purposes. |
Write a review
Your Name:
Your Review:
Note:

HTML is not translated!
Rating:
Bad
Good
Enter the code in the box below:
Product Code: CY115
Availability: In Stock
Price: $0.00
Ex Tax: $0.00

---