Recombinant Chemokines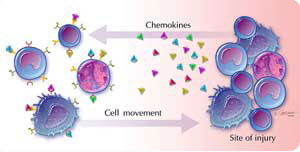 Chemokines are a family of small cytokines, or signaling proteins secreted by cells. Some of them are considered pro-inflammatory and can be induced during an immune response to recruit the immunological cell to a site of infection. This group includes CXCL-8, CCL2, CCL5, CCL10, etc. While others are considered homeostatic and are involved in controlling the migration of cells during normal processes of tissue maintenance or development, such as CCL14, CCL19, CCL13 and CCL25.
Chemokines have been classified into four main subfamilies: CXC, CC, CX3C and XC. BiologicsCorp(BIC) mainly manufactures two types of them: CC(Eoxtain, MIP) and CXC(GRO). CC usually contains four cysteines, but a small number of it contains 6 cysteines. CC chemokines play a role in inducing the migration of cells. The two N-terminal cysteines of CXC chemokines are separated by one amino acid. The function of CXC chemokines is identifying different cells, according to if it has ELR motif. All of them are small in size with a molecular weight of around 8 to 10kDa.
Our products are only for laboratory research use, not intended for diagnostic or therapeutic purposes.