Recombinant Enzymes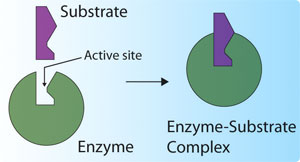 Enzymes are large biological molecules responsible for the thousands of metabolic processes that sustain life. They can speed up the reaction and cut back the activation energy required to start the reaction. Without them, most of the reactions would not occur with a suitable efficiency. Most enzymes are proteins, although some catalytic RNA molecules have been identified. Enzyme activity can be affected by other moleculesas well. Inhibitors are molecules that decrease enzyme activity, while activators have the opposite function. Temperature, pressure, chemical environment and the concentration of substance can also affect the enzyme's activity.
Generally, enzymes work on substrates in one of three ways: substrate orientation, physical stress, and changes in substrate reactivity. Substrate orientation occurs when the enzyme makes the substrate molecules align with each other and form a bound. When it uses physical stress on a substrate, it forces the molecule to break apart. It can also change the substrate reactivity by altering the molecule's electrons, and the consequence is influencing the molecule's ability to bound with others.
BiologicsCorp(BIC) mainly manufactures two types of enzymes: Protein Phosphatase and Ubiquitin Conjugating enzyme. The phosphatase dephosphorylates and negatively regulates the activities of MAP kinases and MAP kinase kinases. It can also dephosphorylate cyclin-dependent kinases, and thus may be involved in cell cycle control. The Ubiquitin Conjugating enzyme may play a role in substrate recognition.
Our products are only for laboratory research use, not intended for diagnostic or therapeutic purposes.